December 03, 2020
Kevin Xu Attend the Obama's New Book Launch
  On December 2, at the invitation of the Obama Foundation, Kevin Xu attended new book launch of Obama, the 44th American President. Dozens of guests of Obama Foundation,
including directors of the foundation and many former cabinet members attended the launch for his new book A Promised Land. Obama shared with people present some of his
thoughts during writing this book and hoped that the young generation can make the world a better place.
  Kevin is a founding member of the Obama Foundation's advisory board. He has been supporting the foundation work and offered many proposals on matters such as the choice of the location of the Obama Presidential Center and the Obama Youth Leadership Project. The Obama Foundation launched African Leadership Project in 2018, committed to looking for young leaders in different fields from various backgrounds in Africa. National Rongxiang Xu Foundation participated in the project. Both Obama and Kevin Xu have attached great importance to community building and the training of young leaders and they have built great friendship during their work .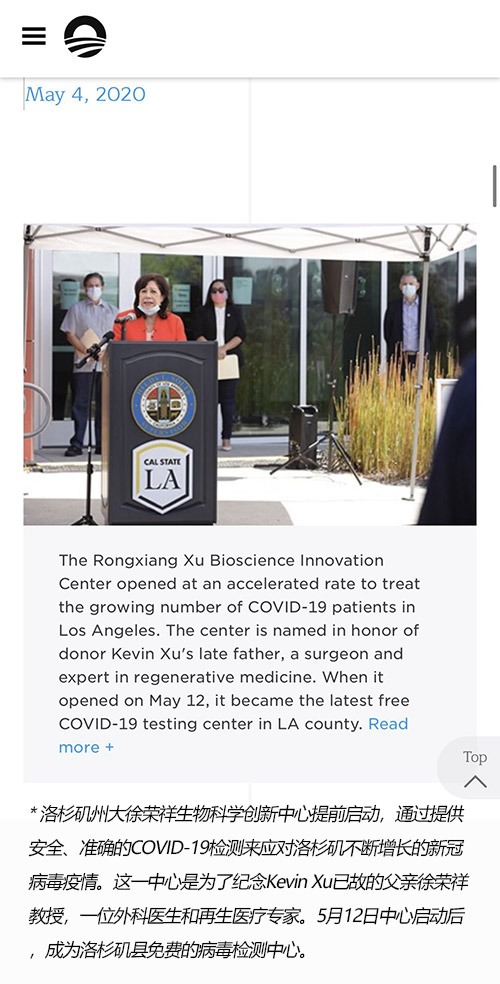 During the period of COVID-19, Rongxiang Xu Bioscience Innovation Center set up a free COVID-19 testing site. The Obama Foundation posted this message on its official website along with series of touching stories to express hope and love in difficult times.